ARDT SEASON SCHEDULE:
Updated June 21, 2021
We're excited to see everyone! More guidelines will be announced in the days ahead. Please check back for updates. —Maria Whaley, ARDT director
From the Director …
Thank you for inquiring about Ashland Regional Dance Theatre. Our program boasts over 100 years of combined teaching experience among the staff. Our recent move into the Ashland Arts District with new, beautifully renovated studio spaces and state-of-the-art equipment set the stage in providing you or your child with the best training and resources our area has to offer.
Our dancewear shop adjacent to our facility provides first quality, reasonably priced dance attire for our students. Also, parents have the benefit of fitting by our instructors and save shipping charges! During registration, special discounts and gifts will be given out. All purchases from our dancewear shop provide ongoing scholarship opportunities for students, civic donations, and continued improvements on our facility.
Thank you for allowing us the opportunity to work with you. Should you have any questions, please feel free to contact us.
Respectfully,

Maria Whaley,
Ashland Regional Dance Theatre Director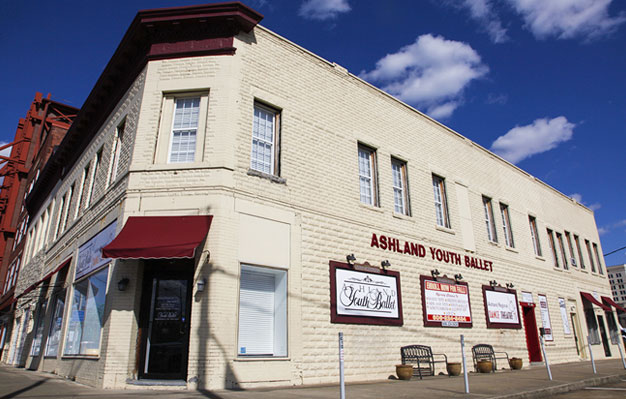 Ashland Regional Dance Theatre
The Home Studio of the Ashland Youth Ballet
Our renovated studio with state-of-the-art equipment is located in the heart of downtown Ashland's Arts District
346 13th St, Ashland, KY 41101 | Map & Directions
Business Office Hours: Monday-Thursday, 5 to 8 p.m.

About Program
The Ashland Regional Dance Theatre, LLC (ARDT) provides instruction in the art of dance through a variety ol dance disciplines and fitness training.
Professional Staff
From toddlers to teens to adults, the staff leads students through age an appropriate and skill level based curriculum which follows the current trends in class and performance training.
Classes
Our program offers appropriate level classes for all age groups — our training philosophy reflects the natural progression of a student from pre-school through high school.
Custom fits
Dance teaches many respected attributes when students, parents, and instructors share a common vision and see the benefits of consistent and age-appropriate training.
How To Start
We make your first steps easy and convenient with regular office hours, open enrollment periods and an online form option to request more information.
Easy Options
Call 606.324.5434 or stop by the studio office, Monday – Thursday from 5 to 8 p.m. For more information and a brief online form designed to directly address your questions, visit our "How To Start" page.
Have questions? We would love to answer them for you! You may use the form below to submit your inquiry and we will get back to you as soon as possible.