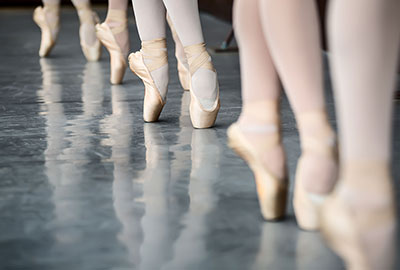 The Ashland Regional Dance Theatre, LLC (ARDT) provides instruction in the art of dance through a variety of dance disciplines and fitness training. From toddlers to teens to adults, the staff leads students through an age appropriate and skill level based curriculum which follows the current trends in class and performance training. The curriculum also aligns with the National Standards of Arts in Education. Dancers participate in a number of civic and educational events throughout the year. Serious students are encouraged to audition for the Ashland Youth Ballet.
Students participate in Dance Masters of America events through our local chapter, Dance Masters of the Bluegrass. These events include a fall and spring workshop with master classes and scholarship opportunities. ARDT Honors Dancers represent the studio in these events. ARDT Honors Program participants are selected each spring to represent the studio for the following year. The program consists of four levels of dancers who commit to an enhanced class schedule and competition opportunities. The dancers serve as our studio's "ambassadors." The studio has instructed many state and national competitors.
Our studio philosophy in working with your child
Dance is the study of how our body moves throughout space. It can be in the form of codified or structured methods which name the steps or step patterns such as ballet, jazz, tap, or acrobatics.
In dance, the dancer often tests the boundaries of the physical body exploring different ranges of movement or plans of action. Whatever the style, dance connects the mind to the body. Dance teaches many respected attributes when students, parents, and instructors share a common vision and see the benefits of consistent and age-appropriate training. Whereas dance may begin at any age and certainly our program offers beginning level classes for all age groups, our training philosophy reflects the natural progression of a student from pre-school through the high school years.
Parents play a vital role in any activity in which their child is involved. A parent's encouragement is priceless. Observing good attendance, teaching adherence to dress code, respecting the studio and waiting area spaces are all ways of teaching our children to respect our world and others. There will always be days when a student does not feel like attending class. However, good attendance is a must if students are going to progress in anything. Parents who remain positive and diligent about their commitment to their class (their group) typically see the benefits of dance within their children very quickly. Not every class will be exciting; often times it is just "hard work" and sometimes what we do just hurts. However, the dancer learns to overcome the "bumps in the road." The teacher and parent travel this journey with each dancer as the dancer learns to strive for the end destination. One dance teacher defined ballet and dance as "the endless pursuit of perfection." Teaching our children to strive and to persevere and to be joy-filled while doing it is a great lesson for the journey of dance and the journey of life.